Earthwork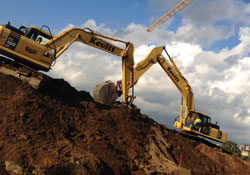 It's not enough to roll in with big machines and move dirt around. We work with you to understand the scope and specific requirements of the job. We pre-plan every aspect of our work before we're on-site to ensure that we do it in the most efficient way possible, and to eliminate any contradictions that would slow us down.
Demolition
Whether it is demolition of a house, commercial building, or part of a structure, Kevitt Excavating has the capabilities to execute on any size job. We are Licensed as a Class A Building Wrecker with the excavators, expertise and people to get the job done right from start to finish.
Utilities
When it comes to municipal or commercial utility work, you need it done right the first time, on time and on budget. That's where we come in. Our certified and experienced professionals have the expertise and machinery to exceed your expectations.
Soil Retention & Deep Foundations
When it comes to soil retention, you need more than to move dirt. You need peace of mind that your project is being engineered properly, and a company that will provide everything you need along the way, including structural drawings required by municipalities as part of the permitting process.